Radio Advertising Bureau, BMI and Mentoring and Inspiring Women Announce Completion of the
10th Annual Management & Leadership Training Seminar
New York, New York – August 21, 2017 -- The Radio Advertising Bureau (RAB), in conjunction with Broadcast Music, Inc. ® (BMI) ®, and the Mentoring and Inspiring Women in Radio Group (MIW), is pleased to announce the successful completion of the tenth annual Rising Through the Ranks Women in Radio Management & Leadership Training Program. Thirty-one scholarship recipients were welcomed at the BMI Offices on August 16-17. Scholarships were courtesy of BMI.

Scholarship recipients were selected and awarded by the three organizations. The two-day seminar focused on the specific needs of women in radio management roles and worked to enhance their overall knowledge and skills.

Featured speakers include:
• Erica Farber, President/CEO, RAB
• Brandeis C. Hall, VP/Professional Development, RAB
• Denyse Mesnik, President, The Mesnik Group
• Dan Spears, VP/ Industry Relations, Licensing, BMI
• Laurie Kahn, CEO, Media Staffing Network
• Lindsay Cerajewski, General Sales Manager, CBS Radio, Chicago
• Caroline Beasley, CEO, Beasley Media Group
• Erika Sylvia, Market Controller, Emmis Communications
• Joe D'Angelo, Senior Vice President, Xperi/DTS
• Val Maki, VP / Market Manager, Los Angeles, Meruelo Media
• Brooke Williams, SVP Membership, RAB
• Ruth Presslaff, President, Presslaff Interactive Revenue
• Danielle Outlaw, VP Sales, Neuhoff Media
• Dan Endom, Region President, Al, TN, MS, iHeartMedia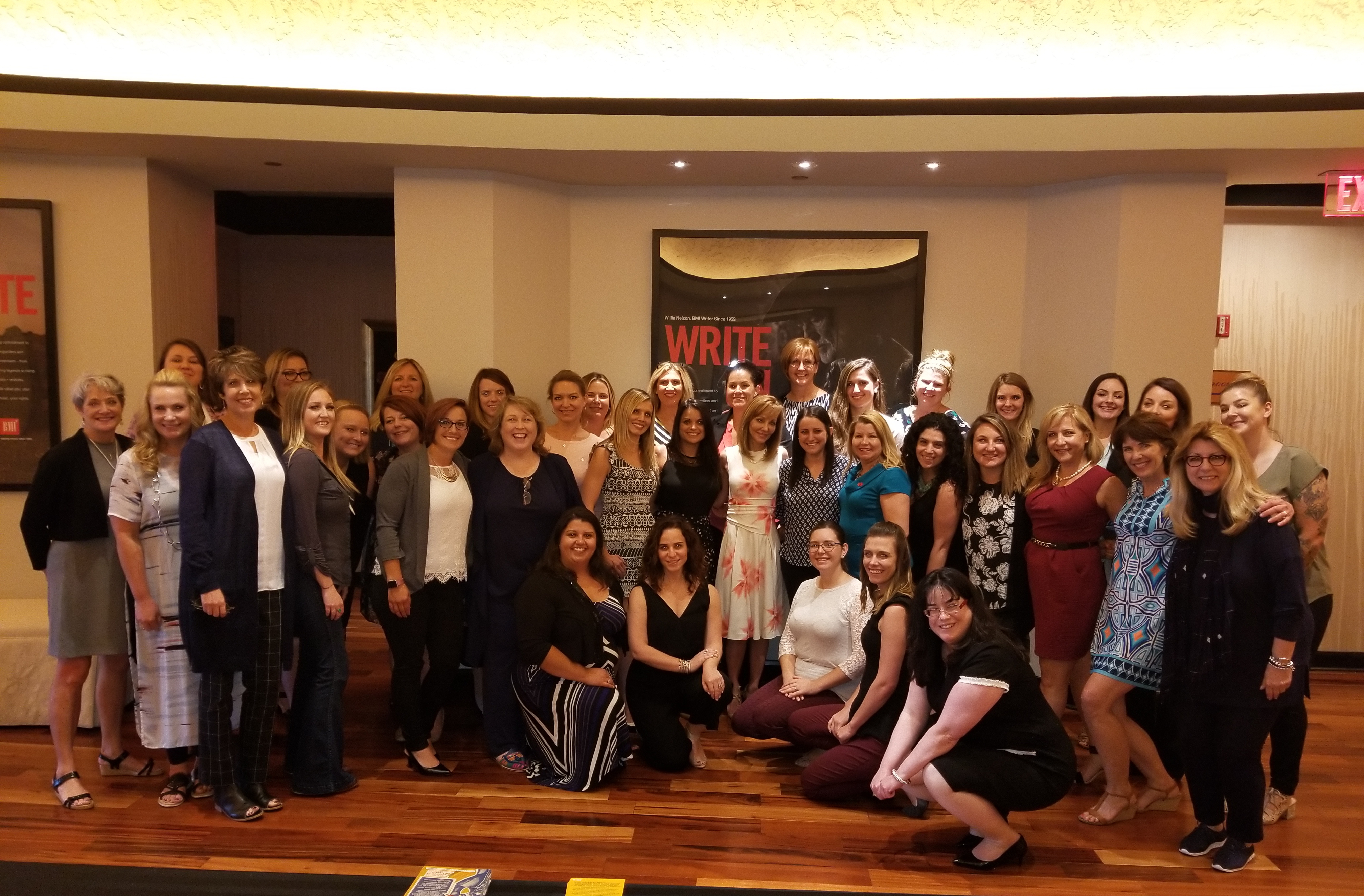 The customized curriculum featured practical and real world applications that participants of the course can put to use in the workplace immediately. The topics included: The Role of Today's Radio Manager, Managing Up and Down, Having Difficult Conversations, Budgeting and Forecasting, Women in the Radio Workplace, Recruiting, Hiring, and Firing, Building Your Personal Brand, and Managing Multiple Generations.

"This year's graduates have left this two-day seminar with a renewed energy, creative management skills and a new found network of peers," said Erica Farber, president and CEO, Radio Advertising Bureau. "These 31 women now have the necessary tools to lead the business and to inspire others."

"BMI was proud to once again support the Rising Though The Ranks program and the talented up-and-coming radio executives who participated this year." said Dan Spears, BMI's Vice President, industry relations. "As we've seen from the results of prior classes, the professional development these rising executives received from true leaders in the industry remains invaluable in their careers and will carry forward with them as they rise even further in the radio industry in the years to come."

"Rising Through the Ranks is one of several mentoring programs we support," said Denyse Mesnik, president, The Mesnik Group, and spokeswoman of behalf of the MIW Group. "It's also one of our favorites as we are able to share our experiences and resources with a significant group of Radio's next generation of leadership, in a focused classroom environment."


| | |
| --- | --- |
| RTTR Class of 2017 - 2017 Graduates and Speakers with BMI songwriters The Sisterhood | "Rising Through the ranks was an incredible experience that taught me how to better improve my brand, build stronger relationships within my organization, and introduced me to an inspiring new tribe of women who have forever shaped my life – both personally and professionally." Courtney Matern, Katz Radio Group |


2017 Rising Through the Ranks Graduates:
• Jordyn Byington, Emmis Communications, Indianapolis, IN
• Morgan Carson, IdaVend Broadcasting, Lewiston, ID
• Miranda Crawford, Always Mountain Time, Breckenridge, CO
• Chelsey Dickinson, CBS Radio- 105.3 The Fan, Dallas, TX
• Aleese Fielder, NRG Media, Plover, WI
• Kelli Frieler, Leighton Broadcasting, Fergus Falls, MN
• Jeni Grouws, Decorah Broadcasting, Inc / KDEC, Decorah, IA
• Rachael Hall, Midwest Family Broadcasting, Mishwaka, IN
• Taunya Iverson, Cromwell Radio Group, Owensboro, KY
• Delia Jackson, Cromwell Radio Group, Decatur, IL
• Jillene Khan, WKTI-FM / E.W. Scripps Co., Milwaukee, WI
• Lindsay Lazar, CBS Radio, Chicago, IL
• Allison Lightfield, Leighton Broadcasting, St. Cloud, MN
• Michelle Mariano, Southern Stone Comm., Daytona Beach, FL
• Lindsey Martin, Entercom, Sacramento, CA
• Courtney Matern, Katz Radio Group, Dallas, TX
• Janet McGrath, Entercom, Virginia Beach, VA
• Kelly Meyer, iHeartMedia, Davenport, IA
• Suzanne Montoya, WPST-FM / Connoisseur Media, Princeton, NJ
• Cealleigh Moore, Entercom, Sacramento, CA
• Kasey Cain, CBS Radio, Sacramento, CA
• Jennifer Quiroz, BMI, Nashville, TN
• Mackenzie Schmidt, Midwest Communications, Evansville, IN
• Kay Lee Smith, Impact Radio Group, Boise, ID
• Jeanne Smith, iHeartMedia, Cedar Rapids, IA
• Hailey Steele, BMI, Nashville, TN
• Kourtney Thompson, Cox Media Group, St. Petersburg, FL
• Juliette Torrenti, Lotus Broadcasting, Bakersfield, CA
• Aly Tripp, Beasley Media Group, St. Petersburg, FL
• Elizabeth Wallin, Cromwell Radio Group, Nashville, TN
• Emily Yourie, CBS Radio, Farmington, CT

About BMI
Celebrating over 76 years of service to songwriters, composers, music publishers and businesses, Broadcast Music, Inc.® (BMI®) is a global leader in music rights management, serving as an advocate for the value of music. BMI represents the public performance rights in nearly 12 million musical works created and owned by more than 750,000 songwriters, composers, and music publishers. The Company negotiates music license agreements and distributes the fees it generates as royalties to its affiliated writers and publishers when their songs are performed in public. In 1939, BMI created a groundbreaking open-door policy becoming the only performing rights organization to welcome and represent the creators of blues, jazz, country, and American roots music. Today, the musical compositions in BMI's repertoire, from chart toppers to perennial favorites, span all genres of music and are consistently among the most-performed hits of the year. For additional information and the latest BMI news, visit www.bmi.com, follow us on Twitter @BMI or stay connected through Broadcast Music, Inc.'s Facebook page. Sign up for BMI's The Weekly and receive our e-newsletter every Monday to stay up to date on all things music.

About MIW Radio Group
The Mentoring and Inspiring Women in Radio (MIW) Group is a volunteer organization consisting of top-level female media professionals from across the country, who are dedicated to using their influence and resources to help other women in radio broadcasting develop strong management and leadership skills. The MIW Group is equally committed to advocating for the advancement of women to senior positions in radio broadcasting and media. For more information, please visit www.radioMIW.com.

About RAB
The Radio Advertising Bureau serves more than 6,000 member Radio stations in the U.S. and over 1,000 member networks, representative firms, broadcast vendors, and international organizations. RAB leads and participates in educational, research, sales, and advocacy programs that promote and advance Radio as a primary advertising medium. For more information, log onto www.rab.com.

Media Contacts:

RAB:
Meghan Buonocore
212-681-7215
mbuonocore@rab.com

BMI:
Jodie Thomas
212-220-3142
Jthomas@bmi.com

MIW:
Denyse Mesnick
denyse@mesnikgroup.com