Craft Beer Brewers Feel Growing Pains of Industry Boom
It seems even people who get to brew delicious beer for a living can have a bad day at work.

Craft brewers across America were frustrated last week after hundreds were shut out from an upcoming prestigious beer festival, which many consider the premier event for networking and showcasing new products. The festival's 600 exhibitor spots were sold out in under two hours, an unprecedented scenario that took many, including event organizers, by surprise.

The speed at which the festival filled up, several craft beer brewers told The Huffington Post, is a reflection of an industry currently undergoing a massive boom -- and experiencing growing pains as a result. With its focus on seasonal offerings, small-batch manufacturing and one-of-a-kind tastes, craft brewing is seeing frothy growth at the moment, those brewers said.

"There's a seismic shift happening in the way beer is made and sold in this country," Jacob McKean, founder of San Diego-based Modern Times Beer, said. "Consumers are so excited about craft beer and there are so many breweries adding to the supply that we're exceeding the pace of the infrastructure. I think what's catching everyone off-guard is the pace.

"There's growth, and then there's exponential growth," he said.

Over 300 breweries were unable to snag a booth at the Great American Beer Festival, an annual three-day suds showcase to be held in Denver, Colo., this October, due to high demand for space at the exhibit. A spokeswoman for the Colorado-based Brewers Association, which organizes the trade show, said so many breweries were attempting to sign up for a spot at the festival that it overloaded website servers, leaving many frustrated brewers frantically reloading a sign-up webpage that had slowed to a crawl.

"We are making the event bigger, but we just haven't been able to catch up with the explosive growth in the industry," Barbara Fusco, the spokeswoman, said.

Giants like Anheuser Busch and Molson Coors still dominate the industry -- making 90 percent of all beer sales, according to the most recent Brewers Association survey -- but craft beer is growing. While small-batch brews accounted for just 6.5 percent of all the beer consumed in the United States in 2012, they took up 10.2 percent of the $99 billion spent on beer that year, according to industry numbers -- up from 9 percent of the dollar share in 2011.

Mark Irvin, the brewmaster and co-owner of No-Li Brewhouse in Spokane, Wash., said he was able to sign his brewery up for the Colorado beer festival after several attempts. But, he noted, a lack of space at the festival is only one of the ways in which the influx of new players into the craft brewing industry is affecting business.

While demand from consumers keeps growing, there are other inputs breweries need to be successful that are currently in short supply, Irvin said. For example, even though many people with experience brewing a few barrels of beer at home are entering the industry as "nanobreweries," brewmasters with the knowledge needed to handle an industrial operation are currently difficult to find, he said.

"You're also seeing a struggle for tap handle space at bars and restaurants," Irvin said. "And even though the amount of shelf space in stores has grown dramatically recently, there's still a lot more competition than space."

As of May, when it conducted its most recent survey, the Brewers Association counted 2,514 breweries in the United States -- a 20 percent jump from the 2,092 total breweries counted in 2012. All but 56 of the over 2,500 U.S. breweries in the 2013 count are small, craft breweries, the association found.

Duane Lujan, the owner of Rocky Mountain Brewery in Colorado Springs, Colo., said he was one of the brewers unlucky enough to be on the wrong side of the sign-up process last week.

After putting the finishing touches on a batch of his "Brunette" nut brown ale, Lujan said he went online to sign up for a booth at the Denver festival. He was especially excited, he said, about having his company's key lime cheesecake-flavored brew judged in the competition that is an integral part of the festival. Being awarded a prize there can bring not only bragging rights, Lujan said, but also attention from wholesalers bearing lucrative distribution deals.

But after spending 90 minutes reloading the webpage, he said, he was unsuccessful in his attempt to sign up.

"I've been going to this thing for 27 years, most of it on the drinking side in the early years," Lujan said. "We have hotel rooms, and beer to bring, so we might just end up having our own little side festival."

One thing the breweries don't need to worry about: the love of beer aficionados.

Fusco, the Brewers Association spokeswoman, said she expects about 49,000 people to attend this year's festival. That amount is about as much as festival security will be able to handle, she said.

When $75 tickets for the event go on sale July 31, Fusco said, "those will be gone in minutes."

(Source: The Huffington Post, 07/17/13)



Click here to email to client
Back to Radio Sales Today

Click here to view Job Postings.
---
The newest members' poll on RAB.com asked the following question: "How often do you entertain advertisers/agency contacts?"

Receiving the most votes, at 37%, was "Once a week," while "Once a month" was second at 28%. Finishing third was "Quarterly" (26%), with 4% indicating "Annually." Six percent of the respondents said "Never."

Visit the channel for Radio on RAB.com for a new poll question each week. If there's a question you've always wanted to ask, email it for consideration to askrab@rab.com.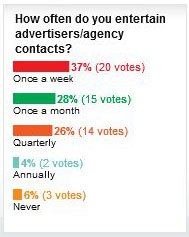 ---
---