Study Finds African Americans More Financially Confident, but Underserved
Prudential Financial Inc. recently released the results of its 2013-2014 "African American Financial Experience" study, which found that members of the African American community remain optimistic and continue to demonstrate financial progress, confidence and growing affluence, despite debt concerns and having little contact with the financial services industry.

"The study shows increasing economic power and an emerging middle class within the community," said Charles Lowrey, Prudential's chief operating officer, U.S. Businesses. "Approximately 4 in 10 households surveyed have annual incomes of at least $75,000, and nearly a quarter earn $100,000 or more. Half of African Americans surveyed said they feel better off financially than a year ago, while only 19 percent say they feel worse."

The study also brings to light distinctive characteristics of the African American community that influence financial priorities and corresponding behaviors. According to the findings, the African American financial experience is largely defined by family-oriented priorities and goals, including greater ownership of protection-oriented financial products, greater reliance on faith-based organizations as a source of financial education, financial decisions driven by women and earlier retirement.

The 2013-14 "African American Financial Experience" is Prudential's second study measuring the financial trends and attitudes in the African American community, and is part of a series of signature research by the company examining financial trends in America's multicultural communities.

As in the inaugural survey, only about a quarter of African Americans feel any financial services company has effectively shown support to the community. Across all levels of affluence, African Americans are 13 percent less likely than the general population to have been contacted by a financial advisor. While half of African Americans surveyed say they believe working with an advisor would help them make better financial decisions, only 19 percent say they have a financial advisor.

The study also finds African Americans remain significantly more confident and optimistic about their financial future than the general population. While the general population's financial confidence is driven largely by level of asset accumulation and macroeconomic factors, African Americans' financial confidence is shaped by a broader and balanced array of factors, including life insurance protection, level of debt and expenses, and health care costs.

"Family remains a key factor in the African American financial experience. African Americans also report managing more financial priorities than the general population, despite doing so with lower incomes. African Americans have a greater number of family-oriented financial priorities, like adequately protecting loved ones, leaving an inheritance and funding education," said Sharon Taylor, senior vice president and head of human resources at Prudential.

The study also points out that African Americans are more likely to live in multi-generational and female-headed households, and to be financially responsible for supporting other family members. Of those surveyed, 57 percent provide financial support to another family member. Reflecting the impact of today's economic condition on African Americans, the survey further revealed that many African Americans are providing financial support to unemployed friends and family -- nearly double the rate among the general population.

Student loan debt also was reported as a significant obstacle to wealth building for African Americans. College-educated African Americans are twice as likely to have student loan debt, proof of economic progress while at the same time hampering the ability to save or invest.

In addition, the study finds African Americans own insurance products, such as life and disability, at equal or greater rates compared to the general population, but are about half as likely as the general population to own investment products, such as IRAs, mutual funds, stocks and bonds.

Nearly half of African Americans say they have a 401(K) or other workplace retirement plan, and 8 in 10 of those currently eligible are contributing. However, African Americans' balances within employer plans are less than half those of the general population's, in part due to the impact of loans and withdrawals. And 3 in 10 have taken loans from their plan, citing the need to repay other debt.

The study is based on a March 2013 poll of 1,153 Americans who identify themselves as African American or Black and 471 general population Americans on a broad range of financial topics.

(Source: Target Market News, 05/23/13)



Click here to email to client
Back to Radio Sales Today

Click here to view Job Postings.
---
The Votes Are In!

This week's RAB.com members' poll asked the question: "When researching a new client, do you most often..." Receiving the most votes was the response, "Visit client website," with 69%. Next was "Use RAB research (articles, IBs, etc.)," with 16%. Fourteen percent of the respondents do both, while the option of "Using LinkedIn or other social sites" received zero support.

Visit the channel for Radio on RAB.com for a new poll question each week. If there's a question you've always wanted to ask, email it for consideration to askrab@rab.com.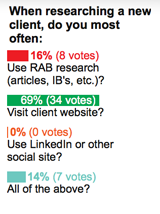 ---
---
_____________________

Around the Industry: The Power of Urban Radio Forum

Registration is now open for the 13th Power of Urban Radio Forum on Thursday, October 3, 2013, at the Westin City Center in Washington, DC.

The event will bring together a highly-respected list of CEOs and global marketers to discuss the strategic importance of the $900 billion African American consumer market as it applies to their companies and Urban Radio. Kizart Media Partners, Inc. will host the forum in partnership with the National Association of Black Owned Broadcasters.

For additional information, call 202-463-8970 or visit www.nabob.org.