Media Facts
Advantages
Disadvantages
Plus Radio
Glossary of Terms
Create a Profile
AM/FM radio was the original portable electronic medium as technology migrated out of homes and into cars and onto transistor radios through the mid-20th century. Now online audio services and satellite radio have stolen some of traditional radio's mobility thunder with delivery on multiple devices and capacity for each user to customize content or to receive unique content based on algorithms
Although it's all sound, consumers and the respective industry segments differentiate among traditional AM/FM radio, digital audio/Internet radio services, and satellite radio services. The newer audio options have established a place in the media spectrum relatively quickly, appealing to younger consumers, early adapters, upscale adults – and advertisers, who are attracted to the expanded options afforded by satellite and digital/online audio marketing.
Pureplay radio services are webcasters that transmit only on the Internet; they don't transmit simulcasts of AM/FM radio broadcasts. These may not be interactive ("on demand") based on a ruling on royalty payments. (Arista)
Online radio's monthly audience (pureplay/AM/FM streamed combined) is estimated at 209 million, representing 73% penetration of the U.S. 12+ population.

87% of America's 12-34-year-olds listen online monthly

81% of 35-54's are online listeners

The 55+ audience is slower to adopt, with just 52% penetration
(Source: The Infinite Dial 2022 - Edison Research/Wondery/ART19)
Smart Speakers / Voice
35% of Americans 12+ own a smart speaker as of early 2022.
(Source: The Infinite Dial 2022 - Edison Research/Wondery/ART19)
78% of U.S. adults own any Amazon speaker while 41% own any Google speaker.
47% of U.S. adults have one smart speaker, 24% have two and 29% have three or more smart speakers.
When asking A18+, "compared to the first month of smart speaker ownership, are you using your smart spaker..."

More often: 43%
About the same: 40%
Less often: 17%

How smart speaker owners listen to audio most often

Smartphone or tablet: 31%
AM/FM radio: 25%
Smart speaker: 23%
Computer or laptop: 8%
Other: 13%
(Source: The Smart Audio Report, Spring 2020)
Voice assistants are helpful when interacting with smart speakers among adults

66% say they use Alexa
26% say they use Google Assistant
8% say they use Siri
(Source: Open Voice Network; Vixen Labs; May 2021)
Audio Podcasting
A podcast is an audio program formatted to be played on the iPod and made available for free or for purchase over the Internet. The name derives from the combination of broadcast and iPod.
Podcasts are shows similar to a radio show that is produced by professionals or amateurs and posted to the Internet for download and listening or viewing.
(Source: About.com)
226 million P12+ are familiar with audio podcasts.
In 2022 - 62% of persons 12+ had ever listened to an audio podcast, an all-time high – increasing from 44% in 2018, 40% in 2017 and 36% in 2016
(Source: The Infinite Dial 2022 - Edison Research/Wondery/ART19)
22% of US adults with an annual income of $200,000+ spend at lease 5 hours per week with online audio (podcasts/online radio).
(Source: Forrester, Weigh The Pros And Cons Of 11 Emerging Marketing Channels, 2020)
Approximately 109 million (38%) of Americans reported listening to a podcast in the past month in 2022 – nearly double from 21% in 2016

41% of men listened to a podcast in the last month while 36% of listeners were women.
50% of America's 12-34-year olds listened to podcasts in the last month
43% of adults 35-54 listened to podcasts last month while only 22% of adults 55+ listened
(Source: The Infinite Dial 2022 - Edison Research/Wondery/ART19)
59% of weekly podcast listeners tune in most often at home while 20% of listeners tune in to podcasts in the car
73% of weekly podcast listeners use a smartphone to tune in while 13% of listeners use a desktop or a laptop
(Source: The Infinite Dial 2022 - Edison Research/Wondery/ART19)
Podcast listeners listen to multiple podcast episodes each week - an average of 8 per week

Listen to 1 podcast per week - 14%
Listen to 2 podcasts weekly – 18%
Listen to 3 podcasts weekly – 13%
Listen to 4-5 podcasts weekly – 21%
Listen to 6-10 podcasts weekly – 16%
Listen to 11 or more podcasts weekly – 18%
(Source: The Infinite Dial 2022 - Edison Research/Wondery/ART19)
Satellite Radio
Satellite radio arrived on the American scene with the September 2001 debut of XM Satellite Radio, followed by Sirius Satellite Radio in July 2002. The two competitors merged in July 2008 after it became apparent the sector couldn't support two distinct entitites – now known as SiriusXM Radio.
Satellite radio services broadcast from satellites, with programming delivered primarily to vehicles or other dedicated devices. Programming is available only to those who subscribe to the service.
Satellite radio subscriber categories:

Self-Pay – individuals pay their own monthly fee
Promotional – Depending on how initial deal with an auto partner is structured, promotional subscriptions may or may or may not be "paid" by the manufacturer or a third party
Satellite service claimed 34 million self-pay subscribers as of March 2022. 
(Source: SiriusXM Radio, Q1 2022)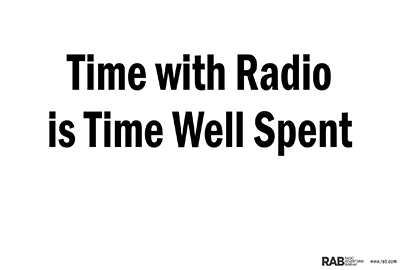 Be sure to read this article: Time With Radio is Time Well Spent.    In Spanish: El Tiempo con la Radio es tiempo bien invertido.